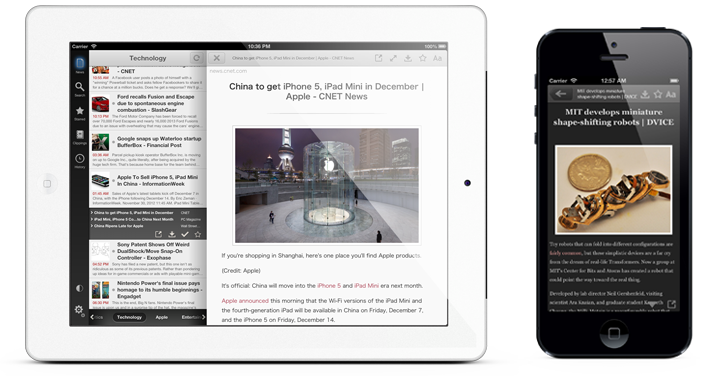 Rapid, Clean, Worldwide.
NewsDaily, a news reader for iOS, has the features you need for your daily news.
Now available on AppStore for FREE!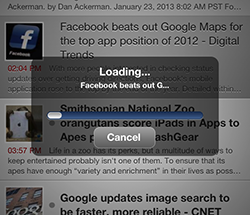 NewsDaily's most specific feature is its built-in optimizer engine. Once the device download a article's html file from the Internet, the optimizer analyzes the page structures and extracts the main body, directly revealing clean content. The process is extremely fast since it does not load extra, irrelevant elements. When it comes to so-called "readability" services, Readability™ and Instapaper are the most well known, but NewsDaily's optimizer is far more efficient than these cloud-based approaches because the analysis of content is performed directly on the local device.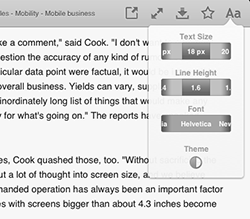 When reading articles with a newsreader, like an RSS reader on the iPhone or iPad, have you ever felt annoyed that each news source has a different appearance, text size, or arrangement of text?
NewsDaily consistently displays all the news, regardless of source, in the same text size, font, and themes, and these can be customizable for easy reading. In addition, you have no need to manipulate the screen horizontally or vertically to find the content.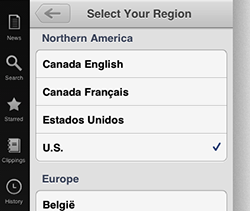 Because NewsDaily's source is Google News, it is available worldwide for more than 70 countries or regions in 28 languages. In each region, you can find stories from a wide variety of sections ---- local news, world news, technology, business, sports, etc. In the US, for example, news is available from a variety of sources such as CNN, NYTimes, USAToday, and BBC, and from tech news and gossip publications like Wired, Techcrunch, Top Gear, and Mashable.
Specific topics can be searched by entering keywords in the search box. You can save these in tabs for quick access.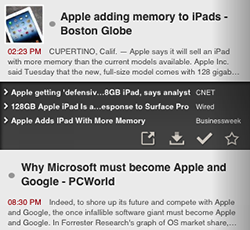 NewsDaily has the capability of saving articles on a local disk as "Clippings". You can classify clippings by folder for later reading.
Dropdown menus from by long-pressing will gives easy access to related news and allows for easy article sharing.
The following sharing services are available: Readability, Twitter, Diigo, Google Reader, Facebook, Pocket, Instapaper, Tumblr, LinkedIn, and Flickr.


Available for both iPhone & iPad. Requirements: iOS6.0 or later